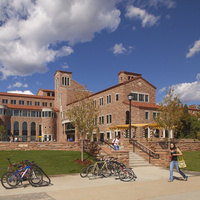 Center for Community
The dynamic student center features centralized key student services and programs on the upper floors including Career Services, International Education, and Counseling and Psychological Services, among others. The center is home to the largest dining center on campus with the capacity to serve 900 people and the flexibility to host special events and meetings with an underground parking garage to support access.Nearest bus stopLocation: Regent Drive & Broadway Route:209/209G DepartmentsCampus Card ServicesCareer ServicesCultural Unity & Engagement CenterCounseling and Psychiatric ServicesDisability Services Gender and Sexuality CenterHousing and Dining Services International EducationOmbuds OfficeParent relationsPre-Collegiate OutreachStudent Affairs University of Colorado Foundation - Campus ProgramsOffice of Veterans Services Victim AssistanceBuilding code: C4CBuilding number: 302
2249 Williard Drive, Boulder, CO 80309

Staff Council Communications Meeting, first Thursday of the month from 12-1 p.m., C4C N351A. For more information contact staffcouncil@colorado.edu.

Monthly Staff Council Executive Committee meeting. 4th Wednesday of the month. Only for Executive Committee, please seek an EC member to submit agenda items....
Recent Events
Wouter Hoogkamer left a positive review
5/21/2018
THe panel shared a lot of useful information, I'm much more confident about my upcoming interviews.
Ryan Webb left a positive review
5/21/2018
The information was great. I will definitely be using specific tips for negotiating my future positions.