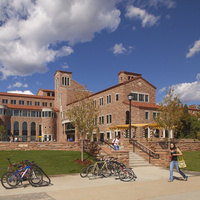 Center for Community
The dynamic student center features centralized key student services and programs on the upper floors including Career Services, International Education, and Counseling and Psychological Services, among others. The center is home to the largest dining center on campus with the capacity to serve 900 people and the flexibility to host special events and meetings with an underground parking garage to support access.Nearest bus stopLocation: Regent Drive & Broadway Route:209/209G DepartmentsCampus Card ServicesCareer ServicesCultural Unity & Engagement CenterCounseling and Psychiatric ServicesDisability Services Gender and Sexuality CenterHousing and Dining Services International EducationOmbuds OfficeParent relationsPre-Collegiate OutreachStudent Affairs University of Colorado Foundation - Campus ProgramsOffice of Veterans Services Victim AssistanceBuilding code: C4CBuilding number: 302
2249 Williard Drive, Boulder, CO 80309

Self-Awareness and Images of the Other in Xi'an, China will give you a first-hand look at China in the making by studying it through literature and...

Meet new and old friends over a bowl of chili at once of these informal gatherings put on by the Center for Inclusion and Social Change. Chili pots...

It's officially fall and Halloween season! Join ISSS to learn about the history and practice of this fun American tradition. Everyone will get to carve and...

Sophie Labelle, unique transgender cartoonist and public speaker with awesome hair, is on a U.S. tour! Sophie is the author of Assigned Male Comics, a...

Prerequisites: Safe Zone LGBTQ+, Wait Your Turn: Recognizing and Interrupting Sexism Led by CISC staff, this session focuses on two or more aspects of...
Recent Events