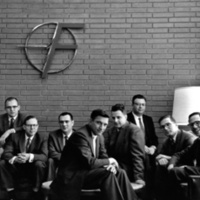 50 Years of Moore's Law
Fifty years ago, in 1968, IEEE Device Research Conference was held at the University of Colorado Boulder. At that conference, Gordon Moore, Andy Grove and Robert Noyce founded the Intel Corporation.
Gordon Moore is famous for his observation that the number of transistors in an integrated circuit doubles every two years. This observation became known as Moore's Law.
Come to the Gemmill Engineering, Math & Physics Library to see our exhibit detailing important events in the creation of the modern computer, Silicon Valley, as well as selections from our collection about the history of the computer, Silicon Valley, and the future of microprocessor design.
Wednesday, May 23, 2018
Engineering, Math & Physics Library, 135
2300 Colorado Avenue, Boulder, CO 80309
Event Type

Interests

Audience

College, School & Unit

Tags
Group

Hashtag

Subscribe