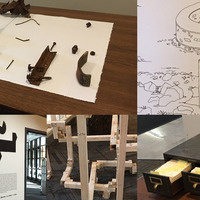 ARCHIVE: Notes from the Field
A collaborative exhibit from the Sculpture and Post-Studio Practices Seminar and the University Libraries' Special Collections, Archives and Preservation Department. Exploring ephemera, record-keeping and the artists' archive.
Work by: Mike Foster, Camila Friedman-Gerlicz, Brittney Hafer, Sarah McCormick, Melissa Sclafani, and Aaron Treher.
Located in Norlin Library, near the east entrance on the first floor.
Thursday, May 3, 2018
Norlin Library, First Floor, near the east entrance
Event Type

Interests

Audience

College, School & Unit

Tags
Group

Subscribe