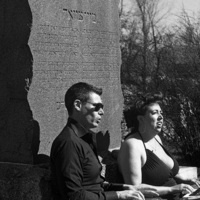 Archive Transformed
*No Boundaries: Dancing the Visions of Contemporary Black Choreographers: (Mason, Beahm, Steuernagel, Kootin)
Aims to perform, document, preserve, and disseminate dances by 10 prominent and influential African American choreographers.
*LA Archivera: The Sonic Archive of Emily Sene:
(Eisenberg & Lockwood)
Documents and illuminates the experience of Sephardic Jewish immigrants to California through music.
*The Beregovski Archive: (Malin & Svigals)
Utilizes the recordings and transcriptions of M. Beregovski, made in Ukraine from 1929-49, in an effort to understand the music of Jewish Eastern Europe in the centuries leading up to World War II.
*America's Chosen Spirit: (Waldman & Fernheimer) A transmedia project that raises awareness of the longtime presence and participation of outsiders like women, Jews, African Americans, and immigrants in the development of Kentucky's bourbon heritage.
Thursday, May 17, 2018
Boulder Public Library 1001 Arapahoe Avenue, Boulder, CO 80302
Event Type

Interests

Audience

College, School & Unit

Website
Cost

Free

Group

Subscribe