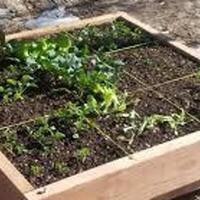 Basics of Colorado Gardening
In this Sustainability Skills workshop with ENVS Permaculture instructor Kelly Simmons, you will learn the basics of gardening in the high desert Colorado foothills - from site preparation and building soil to growing your favorite veggies including their characteristics, what they need, when to plant them, when to harvest them and how to build great soil for them to thrive in. We will cover seeds and transplants, watering and plant care for both container gardening and garden plots. And we will gain some hands-on experience with seeds, soil and planting too, so that you feel ready to grow your own this Spring! Participants will receive hand outs on building soil and a Boulder Planting Guide.
This workshop is open to enrolled CU Boulder students only. Enrollment is limited.
Please arrive on time so we can get started and underway promptly.
FREE.
SEEC MacAllister Building Room N128 (East Campus)
Brought to you by student fees and the CU Environmental Center
Friday, April 13, 2018 at 1:00pm to 5:30pm
Sustainability, Energy and Environment Community (SEEC), N128
4001 Discovery Dr., Boulder, CO 80309
Event Type

Interests

Audience

Website
Cost

FREE

Group

Subscribe