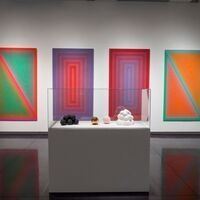 Be Our Valentine with Hearts for Art!
Will you be our Valentine? Stop in Feb. 8–14 and show our artwork some love:
Step 1: Pick up a single heart and hold it close until you're ready to choose your artwork Valentine ...
Step 2: Fall in love with an artwork and make it official by placing your heart ON THE FLOOR in front of the artwork you love.
Step 3: Snap a photo of your heart placed near to your artwork Valentine, and post it to your favorite social media site, tagged with #cuartmuseum and #heartsforart.
Wednesday, February 14, 2018 at 11:00am to 5:00pm
CU Art Museum
1085 18th Street, Boulder, CO 80309
Event Type

Interests

Audience
Group

Hashtag

Subscribe