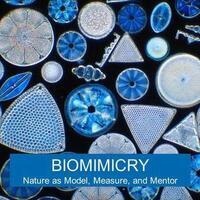 Biomimicry + CU Faculty
"CU Boulder's core mission is to educate students and engage in cutting-edge scholarship and creative work, research and discovery. The success with which we carry out this mission determines our ability to accomplish our strategic imperatives, which are to shape tomorrow's leaders, positively impact humanity and be the top university for innovation."
Which leads us to Biomimicry. Some faculty are using it, some are curious, and others want to teach it. Help us better understand what faculty would value in an intensive from biomimicry professionals and how to expand this innovative tool in research and teaching at CU Boulder.
Agenda:
A brief overview of biomimicry, including how researchers use it, along with a few examples of applications and methodology.
Discuss a few ideas on how to incorporate biomimicry into course work, sharing some homework examples from ASU engineering class.
Open discussion - where to go from here, what resources are available and how to best access them. How engineers and others can bring biologist into projects.
This Pre-registration intake is not required but helps us prepare and use your time wisely. Can't make this event but want to stay in touch and learn more? Please use this link.
Our facilitator:
Marie Zanowick Bourgeois is a creative civil engineer with 25 years of experience working for the U.S. Environmental Protection Agency in the areas of pollution prevention and sustainability. A graduate of the Biomimicry 2010 Masters Degree Program, she combines her educational background from the University of Colorado in Biology, Public Health, and her MS degree in Civil Engineering from Virginia Polytechnic Institute, and MS from Arizona State University (ASU) in Biomimicry with her regulatory experience and facilitation skills to produce innovative solutions to a wide range of challenges.
Recently retired from government service, Marie teaches courses for the MS in biomimicry at ASU and is discovering places in her local community where biomimicry can assist in applying nature's genius to a range of projects and influence emerging engineers. She has worked with both the Biomimicry Institute and Biomimicry Group.
Marie's work at EPA included assisting federal agencies in developing and implementing sustainability management systems as well as providing technical assistance to EPA, Federal, State and local governments and industry as they find innovative ways to reduce pollution and move towards sustainability. Ms. Bourgeois uses biomimicry as the method of choice in solving environmental challenges.
Hosted by:
CU Biomimicry Club, Swapnil Kumar MA candidate Mechanical Engineering, MIT Fellow, and LEADEarth Fellow in India
CU Environmental Center, SarahDawn Haynes, Certified Biomimicry Practitioner and Possibilities Cartographer
Reach us at biomimicry@colorado.edu + hayness@colorado.edu.
Friday, January 12, 2018 at 10:30am to 11:30am
Fleming Building, Idea Forge (east entrance to Fleming)
2445 Kittredge Loop Road, Boulder, CO 80309
Event Type

Interests

Audience

College, School & Unit

Website
Group

Hashtag

Subscribe