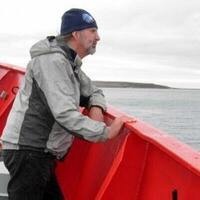 Book Talk: Brave New Arctic
Brave New Arctic: The Untold Story of the Melting North
A book talk by NSIDC Director and CIRES Fellow Mark Serreze
In the 1990s, researchers in the Arctic noticed that floating summer sea ice had begun receding. This was accompanied by shifts in ocean circulation and unexpected changes in weather patterns throughout the world. The Arctic's perennially frozen ground, known as permafrost, was warming, and treeless tundra was being overtaken by shrubs. What was going on?
Brave New Arctic is Mark Serreze's riveting firsthand account of how scientists from around the globe came together to find answers.
After the talk and discussion, join us for refreshments and a book signing. A representative of the Boulder Book Store will have books for sale (cash and credit card).

Please register for this free, public event.
Thursday, April 19, 2018 at 5:00pm to 6:00pm
Cooperative Institute for Research in Environmental Sciences (CIRES), Auditorium
1665 Central Campus Mall, Boulder, CO 80309
Event Type

Interests

Audience
Subscribe