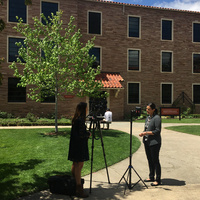 Education Faculty Media Coaching Session
School of Education faculty are invited to attend a Media Coaching Session led by the Strategic Media Relations. This interactive session will cover:
Messaging
Media tactics and interview techniques
Social media
Op-eds
Quick tips for interviews
Handling media requests
Mock recorded interviews; attendees will receive a personal copy of their recorded interview.
This is an opportunity to increase and enhance media coverage for your area of expertise, the School of Education and the university. The facilitators have in-depth knowledge and expertise regarding media relations. The School of Education will provide food and beverages.
Friday, January 12 at 8:30am to 12:30pm
Education
1500 Central Campus Mall, Boulder, CO 80309
Event Type

Interests

Audience

College, School & Unit
Cost

free

Group

Subscribe