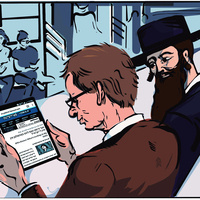 How the 'Forverts' is Being Transformed in the Digital Era
In this Community Talks lecture, Rukhl Schaechter will explore how the Forverts, founded in 1897 as a socialist newspaper for Jewish immigrants, has gone through a number of phases, in order to adapt to the changing demographic of its readership.
Today, there is a growing interest in the Yiddish language and culture, not only in the Diaspora (particularly the U.S., Germany and Poland) but even in Israel, where Yiddish had been maligned for years as "a language of the weak, oppressed Jew" but is now being reclaimed by a number of Ashkenazi Israelis, both secular and religious, who see it as an important part of their Jewish heritage.
In addition, many Hasidim, the largest Yiddish-speaking community today, now read the Forverts on their smartphones, since it brings them material they don't get in their own newspapers. Through its website and social media, the Forverts now serves all these groups as an international clearinghouse the latest Yiddish news, analyses cooking shows and music videos.
Schaechter's public lecture is part of the Program in Jewish Studies Community Talks Series, Yiddishkvell: An Appreciation of All Things Yiddish.
Please note this event has changed locations and will now take place in the Chancellor's Silver & Gold Room in University Club.
Thursday, October 11, 2018 at 12:00am
University Club, Chancellor's Silver & Gold Room
972 Broadway, Boulder, CO 80309
Event Type

Interests

Audience

College, School & Unit

Website
Hashtag

Subscribe