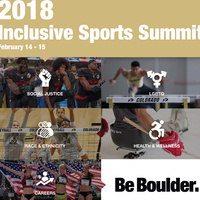 Inclusive Sports Summit
The Inclusive Sports Summit (ISS) will provide a space for all to dialogue on social issues while embracing one's differences through interactive presentations, panel discussion and experiential opportunities. ISS will challenge recreational and professional sports and collegiate athletics to examine their social constructs specific to race, gender, sexual orientation, ability and class. Topics will include Social Justice, LGBTQ, Race and Ethnicity, Health & Wellness and Careers in relation to sports and recreation.
This event will run from Wednesday, Feb. 14, to Thursday Feb. 15, and will take place at the Student Recreation Center and the Champion Center.
Thursday, February 15, 2018 at 9:30am to 12:30pm
Student Recreation Center
1855 Pleasant Street, Boulder, CO 80309
Event Type

Interests

Audience

Website
Group

Subscribe