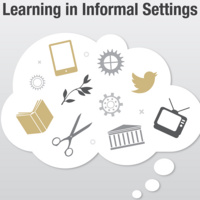 Learning in Informal Settings Seminar with Dr. Ananda Marin, Asst. Professor, UCLA
Walking, Reading, & Storying the Land: Learning in the natural world
Place-based learning is receiving increased attention in both the popular media and education settings. Importantly, conceptualizations of place and mobility that are generated in these conversations have implications for how we as educators carry out research and design learning environments. In this talk, Dr. Marin will discuss walking, reading, and storying land as a methodology for learning about the natural world. She will draw on research by Indigenous scholars and interaction analysis traditions to engage the following questions:
How is meaning making about the natural world shaped by walking paths and routes, both those built by humans and more-than-human life?
What perspectives are inscribed when we use wearable cameras to capture learning on the move?
How do these multiple perspectives inform our understandings of the dynamic links between land, walking and learning?
Illustrated by parent and child video from one family's nature walk, and based on extensive analysis of a larger corpus, Dr. Marin will explore these questions and the ways in which shifts in movement, from walking to stopping, and configurations of the landscape provide both the means and content for learning.
This innovative seminar series is co-sponsored by the CU School of Education and the CU Museum of Natural History at the University of Colorado Boulder.
Tuesday, February 27, 2018 at 3:30pm
Museum of Natural History (Henderson), Paleontology Hall
1035 Broadway, Boulder, CO 80309
Event Type

Interests

Audience

College, School & Unit

Tags
Cost

Free admission

Group

Subscribe