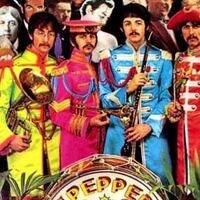 Liquid Sky: Beatles Sgt. Pepper's Lonely Hearts Club
One night only!
We had such a blast in 2017 for the 50th anniversary release of the iconic Beatles Sgt. Pepper's Lonely Hearts Club album that we decided to celebrate the 51st anniversary, too!
This was the Beatles eighth album, and it spent 15 weeks at the top of the charts in 1967. It still remains the third best-selling album in the U.K. You already know the playlist, but we have a few surprises for you, too!
Fiske's mind-melting Liquid Sky is a musical, all-you-can-eat eye candy buffet. The beats and rhythms of your favorite artists are coupled with the trippiest visuals digitally rendered live, all on our new 8K dome and in full-surround audio. Let our liquid engineers take you on a live-mixed journey in Fiske Planetarium's unique immersive theater!
Friday, June 1 at 9:30pm to 10:30pm
Fiske Planetarium and Science Center
2414 Regent Drive, Boulder, CO 80309
Event Type

Interests

Audience

Website
Cost

Adults: $10; Kids/Military/Veterans/Seniors: $7

Group

Subscribe