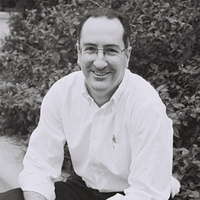 Fred Turner: "Media Against Fascism, Then and Now"
Fred Turner is the Harry and Norman Chandler Professor of Communication at Stanford University. His talk, "Media Against Fascism, Then and Now" is drawn from his recent book The Democratic Surround: Multimedia and American Liberalism from World War II to the Psychedelic Sixties (Chicago: University of Chicago Press, 2015), which has been described as "a dazzling cultural history that demonstrates how American intellectuals, artists, and designers from the 1930s-1960s imagined new kinds of collective events-different from Fascism's crowds-that were intended to promote a powerful experience of American democracy in action."

For more on The Democratic Surround and Fred Turner's work, visit fredturner.stanford.edu.

Free Parking
After 5 p.m. there is free parking along Grandview Avenue!
Grandview Avenue is near the Starbucks on Broadway. The Starbucks address is 1402 Broadway, Boulder, CO.
Before the Starbucks, at the cross section, take a right onto Grandview Avenue. The entire street is free parking after 5 p.m.

Paid Parking
Available on University Avenue.
Thursday, February 15, 2018 at 5:30pm
Hale Science, 230
1350 Pleasant Drive, Boulder, CO 80309
Event Type

Interests

Audience

College, School & Unit

Tags
Cost

Free

Group

Subscribe