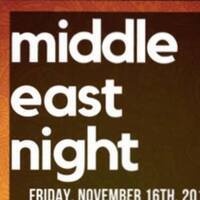 Middle East Night
Join the Middle Eastern Student Association for their biggest event: Middle East Night. It will feature a Middle Eastern fashion show (includes both male and female), Hamsa Dane, belly dance, hip-hop dance, free food and also free admission. Bring your friends and family; the event is open to the public.
The Middle Eastern Student Association (MESA) aims to recognize various cultures in the Middle East, Central Asia, Afghanistan and Pakistan. MESA raises awareness through various social and cultural events/programs. It helps Middle Eastern students express themselves and share their cultures on campus.

Have any question? Please email middleeastern@colorado.edu.
Friday, November 16, 2018 at 7:00pm to 11:00pm
University Memorial Center (UMC), Glenn Miller Ballroom
1669 Euclid Avenue, Boulder, CO 80309
Event Type

Interests

Audience

Website
Cost

Free Admission

Hashtag

Subscribe