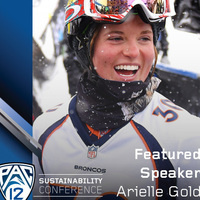 Pac-12 Sustainability Conference
Consistent with its reputation as the Conference of Champions, the Pac-12 is the first collegiate sports conference to convene a high level symposium focused entirely on integrating sustainability into college athletics and across college campuses.
Join us July 12 as we convene to drive high level athletic sustainability forward. Featured speakers include Olympians Arielle Gold and Mary Harvey, current and former NBA players, and leaders from NCAA.
Thursday, July 12, 2018 at 8:00am
Folsom Field & Stadium, Byron R. White Club
2095 University Ave., Boulder, CO 80309
Event Type

Interests

Audience

Website
Cost

$49 Pac-12 students, faculty, staff

Hashtag

Subscribe