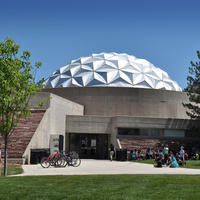 Fiske Planetarium and Science Center
Fiske Planetarium hosts a diverse range of shows, star talks, LASER shows, and special live events. The planetarium's 20-meter dome (the largest between Chicago and Los Angeles) was for many years home to one of the few Zeiss Mark VI Star Projectors, affectionately known as "Fritz," after the German engineer who oversaw its installation. In 2013, Fiske began a major systems upgrade, placing it among the most technologically advanced theaters. Fiske Planetarium works to serve CU faculty and students, local schools, and the general public. We host special talks and educational events, and often host large crowds during astronomical and NASA-related events.
2414 Regent Drive, Boulder, CO 80309
Recent Events

Joyce Chase left a positive review
3/16/2018
Thank you - I enjoy everything I attend at Fiske

Trevor VG left a positive review
3/15/2018
This is one of my favorite things to do: taking in a presentation by Dr Bagenal at the Planetarium. Fun, informative, intellectually stimulating... awesome!
The event idea was great, however, the execution could use a bit of work.