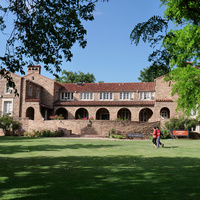 University Club
This beautiful pink sandstone building, built in the Tuscan Vernacular style like much of campus, is the home of CU Presents, International Affairs Program, Program in Jewish Studies, and Pre-Professional Advising.
972 Broadway, Boulder, CO 80309
Recent Events

It was a very useful workshop and the presenter was very professional (organized, clear, energetic). The path of the presentation was good, the power point was well designed and I felt that all my questions were addressed and answered. I would definitely recommend others taking this workshop.